To encourage people from culturally and linguistically diverse backgrounds (CALD) to visit their doctor and stay on top of their health, WA Primary Health Alliance has expanded its See Your GP campaign into another eight languages.
The campaign was created during the early stages of the current pandemic after some general practices in Western Australia reported a drop off in patient numbers, believed to be related to COVID-19 fears.
This sparked concern among GPs and the wider medical community that critical health conditions might have been going undiagnosed and untreated, and some people may have been unnecessarily facing significant and even life-threatening complications.
The campaign reminds health consumers of the importance of regular medical appointments and assures them of the availability of safe, essential health care.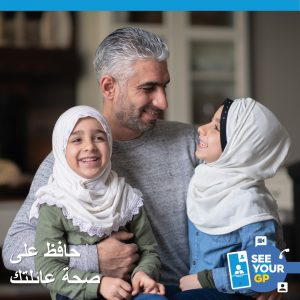 WA Primary Health Alliance General Manager Strategy and Engagement Chris Kane said it was important all Western Australian who needed to see a GP did not put this off.
"While the majority of COVID-19 related restrictions have been lifted in Western Australia, the campaign remains relevant, particularly for people of CALD communities who may have been less exposed to these important health messages," Ms Kane said.
"We know that, due to a number of barriers, including language, people from CALD backgrounds have a significantly lower level of access to some health services.
"The messages are clear and simple: your health is important, and your GP is here for you.
"We will be sharing this campaign with GPs, consumer organisations and multicultural organisations, to get this message out as far and wide as possible.
"We also encourage families, carers, neighbours and others who know someone who is isolated, particularly if English is not their first language, to reach out to them and check in to see how they are doing and ask if they need help."
The community is reminded of the importance of regular health checks, particularly the monitoring of chronic conditions such as heart disease, diabetes and asthma, as well as keeping up to date with immunisations and attending appointments for breast, cervical and bowel screening.
You can access the translated resources to download and share here.
Languages include:
Tagalog
Indonesian
Vietnamese
Italian
Hindi
Chinese (Cantonese & Mandarin)
Arabic
Punjabi
This campaign has been made possible through funding provided by the Australian Government under the PHN Program.