WA Primary Health Alliance's (WAPHA) COVID response team has been acknowledged in the Stars of COVID campaign, alongside many other dedicated teams and individuals from across Western Australia's health care, aged care and community care sectors.
The Stars of COVID-19 campaign was launched by the WA branch of the Australasian College of Health Service Management to acknowledge and celebrate leadership, effort, commitment and hard work shown during the pandemic.
The WAPHA COVID-19 Response Team was initially set up by General Manager Bernadette Kenny and Primary Care Manager Lucy Patel to develop a logistical strategy to distribute face masks to GPs and pharmacies across Western Australia. To date, more than 215,000 masks have been distributed.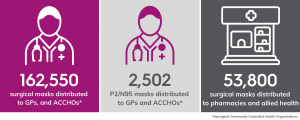 The Response Team was quickly expanded to bring in multiple skills and functions, to coordinate our primary care response as confirmed cases of COVID-19 began to rise.
General Manager Bernadette Kenny said since early March, demand for WAPHA's services, support and advice had been dynamic and significantly increased in volume.
"We quadrupled our Practice Assist team to deal with the volume of requests for help. At the height of the pandemic, enquiries increased 500% month on month and website visits by 77% year on year," she said.
"With the introduction of universal telehealth, we partnered with Health Direct Australia to remotely assist healthcare providers to connect with and utilise the HealthDirect Video Call platform, with over 140 general practices registered in the initial few weeks."
In the spirit of collaboration, WAPHA negotiated an first-time partnership with five medical and health agencies to produce a daily GP newsletter to ensure general practice was kept abreast of important COVID-19 developments.
Webinars, a virtual GP information pack and extensive FAQs provided further support.
"The responsiveness, adaptivity and dedication of our staff across primary care, commissioning, strategy, policy, and communication teams has been nothing short of amazing," Ms Kenny said.
WAPHA funds a range of organisations who deliver community-based treatment and support services.
During this time, the Response Team was also involved in supporting these organisations to adapt and continue operating, sometimes under difficult circumstances.
Additionally, WAPHA facilitated the establishment of 12 GP Respiratory Clinics on behalf of the Australian Government Department of Health and helped to improve communication flow between hospitals and GPs.
It also advocated on behalf of primary care for influenza vaccine supplies, private pathology providing COVID-19 testing and inclusion of GPs in COVID-19 patient discharge pathways.
The ACHSM campaign, which was not a competition but rather a way of acknowledging the leadership and compassion across WA's healthcare sector, received 220 nominations.
Read the full list of nominees and the reasons they were nominated.