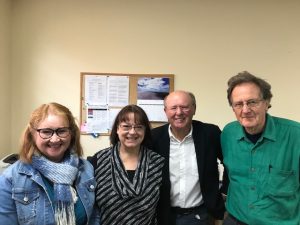 Older people living in Esperance will now be able to access geriatric health services without having to leave Esperance.
WA Primary Health Alliance has partnered with the WA Country Health Service Aged Care Directorate to deliver a tele-geriatric program, connecting older people with a gerontologist via videoconference.
Providing healthcare for older people requires holistic assessment and care, and a consultant geriatrician can now use telehealth to provide geriatric management including diagnosis, medications and cognitive and functional status.
With easier access, patients will now enjoy better health outcomes with improved management and treatment of their health condition.
Consultations are carried out on a secure internet connection, ensuring privacy and confidentiality.
WA Primary Health Alliance recently invited Professor Peter Goldswain (Clinical Lead of Geriatric Medicine) to update Esperance GPs on the expansion of the existing face to face gerontology service.
Professor Goldswain assured GPs these outreach services will result in quicker and increased access to a gerontologist, as well as savings for patients and their families who no longer need to take time off work, travel long distances and pay for accommodation to get the care they need.
The service also provides sustainable healthcare solutions to address the projected needs of WA's aging population.
For more information, contact the WACHS Goldfields aged care team in Esperance on 08 9079 8074.