Between 6 and 11 October, WA Primary Health Alliance (WAPHA ) My Health Record trainers, Rose Teuma and Sam McMillan, travelled across the Goldfields region to train local Aboriginal champions in My Health Record. WAPHA had previously engaged four local service providers to identify champions who will visit remote Aboriginal communities to inform them about My Health Record.
Aboriginal champions in Esperance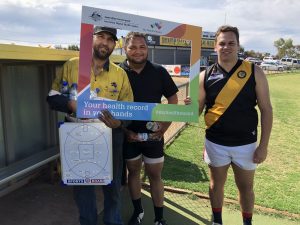 The first training session was delivered in Esperance with staff from Hope Community Services who deliver a variety of services, including Aboriginal health, in Esperance, Norseman, Kalgoorlie, Leonora and Laverton. The identified Aboriginal champions have existing relationships within communities living around these towns. Before hitting the road, the champions took part in the Kalgoorlie football competition where they spread the word about My Health Record.
Spinifex Tjuntjuntjara Community
WAPHA collaborated with the Spinifex people living in Tjuntjuntjara lands, a remote part of the Goldfields located in the Great Victoria Nature Reserve. In fact, this sustainable community is so remote there's only one flight every two weeks, usually fully booked, and there's just one store catering for the whole community. Rose facilitated training via video conferencing to the remote Aboriginal champion who will travel across 55,000 square kilometres of native title land to inform Aboriginal locals about My Health Record.
Ngangganawili Aboriginal Health Service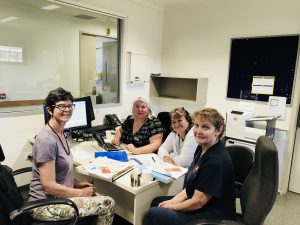 The next stop was Ngangganawili  Aboriginal Health Service in Wiluna, a six-hour drive from Kalgoorlie. Besides the clinic, the town consists of a small shop, a petrol station, a school and a police station. The team stayed at the old medical centre close to the clinic.
Rose trained two remote Aboriginal champions in this region, whilst Sam spend her time training the clinical team including the doctor, nurses and the manager.
"The champions had to leave the training early to hunt for kangaroo – the family had requested roo tail for dinner. When you enter these communities, you must work around their schedule. There is no point expecting people to sit in a room for six hours of training – it simply doesn't work that way," said Rose.
When she became sick during her stay, Doctor Toby treated her and uploaded her details to My Health Record.
As the team left, the Royal Flying Doctor Service (RFDS) flew in to provide dental services at the clinic. Together with RFDS, this little clinic provides health services to Aboriginal people living across 55,000 square kilometres. The clinical team said they believe My Health Record will be of great support to them and the RFDS. My Health Record videos are now playing in the waiting room people have something different to watch whilst waiting for treatment.
Ngaanyatjarra Health Service
Rose flew to Alice Springs to train the Aboriginal champions for the Ngaanyatjarra community. The Shire of Ngaanyatjarraku, part of the great sandy desert, is made up of ten shires across the region, with an approximate population of 60,000 residents and covering an area of 770,488 square kilometres, which is just under a third of the total land mass in Western Australia.
Although the Shire is part of the Goldfields Esperance region, the closest city is Alice Springs. Rose trained seven remote champions in Alice Springs and one of them had to travel 700 kilometres to attend. Often the champions will stay in tents when visiting remote communities as this is the only form of accommodation available; and they will take their own food as there are no shops.
In this region the champion's approach will be hosting BBQs with sausage rolls to talk about My Health Record. In each part of the Goldfields, the approach is slightly different based on the needs of the area. The champions from Hope Community Services will be providing female hygiene bags during My Health Record information sessions as this is what this area requires.