Today we are saying farewell to our amazing Pilbara Regional Manager, Winsome (Winnie) Henry, after almost seven years of service to the region.
To acknowledge her contribution over the years, we asked Winnie to reflect on some of her fondest memories with WA Primary Health Alliance (WAPHA) after being a part of almost every major milestone in the Pilbara.
"I have been with WAPHA coming up for seven years. Our doors opened in July, and I started in August so it's been a long time."
"My role is to understand the primary health care needs of people who live in the Pilbara and work alongside our stakeholders and service providers to help improve access to care, so people don't end up in hospital unnecessarily."
"A big part of my role is building strong relationships, not just relationships with stakeholders or service providers, but also community members, Elders, and even friends and family. When you live here, you are part of the community, so it's all about knowing the place, knowing what the needs are and working together to improve health outcomes."
During Winnie's time with WAPHA, one of her biggest highlights was helping to establish headspace services in the region, something she has been involved with since 2016, after becoming aware of a lack of mental health support for young people in the region.
"I've had lots of memorable moments, but the headspace journey is just my absolute highlight."
"I was really involved right from the beginning. From understanding the need, putting a case forward, working on commissioning the service, working with providers, and working on the service design, implementation and evaluation."
"We were tasked with trialling the headspace model without a centre, essentially flipping the centre model inside out, taking services to where young people were, so it was really innovative, and a piece of work I'm just really so proud to have been part of."
The success of the Pilbara headspace trial led to the Australian Government announcing additional funding for young people in the region, with confirmation of two new centres, one in Hedland and one in Karratha.
"I recently got to walkthrough the new centre in Karratha and I thought, wow, this is the outcome of all that work."
"To end up with $11 million in funding for young people in the Pilbara, that's the impact right there. To see young people being able to access the services they need and working with a phenomenal, commissioned service provider has been incredibly rewarding."
"I'm proud to have been a part of that journey from the beginning, and to see the expanded reach across the Pilbara, it is just amazing."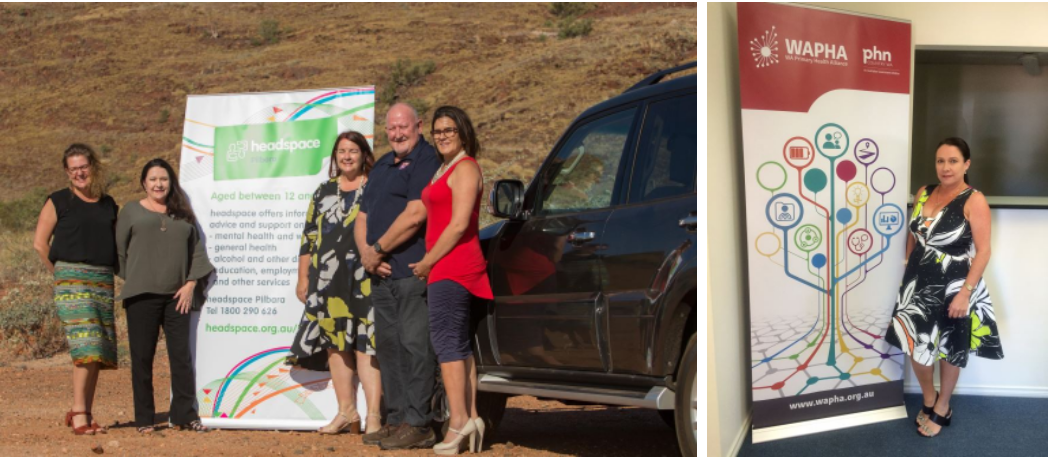 Outside of headspace, Winnie reflected on many other memorable moments and highlights.
"I can think of so many things over the seven years that have just been so amazing. All of the projects I have been involved with have been so different and there has been many humbling moments."
"In the early days, we gave some funding to an organisation called KJs (Kanyirninpa Jukurrpa) in Newman which works with the Martu people, one of the last groups to migrate from their desert lands. We commissioned a movie to interview them about their journey, how alcohol impacted their lives and how they've managed to overcome struggles."
"I still have that movie on a disc, and I remember sitting at KJs for the first viewing – what incredible community stories, so emotional raw and real. That movie was filmed in 2018 and they then went on to form Wama Wangka, a Martu-designed, Martu-led approach to alcohol and substance abuse."
"Another memorable experience was attending a roundtable discussion for one of our rehabilitation centres. Speaking face to face with the people who use the services, engaging with community members and really listening to their stories, it is so important."
When asked what Better Health Together meant to her, Winnie spoke about the importance of building strong relationships.
"I really like WAPHA's vision: Better health, together, it's simple but really meaningful."
"Being a manager and working in a remote location, you get to work across everything we do. You get to work in primary care, with GPs, with community members and all of our stakeholders across all of our pillars."
"The Pilbara can be a really challenging environment, it has many workforce shortages, and it covers a vast geographical area, so it really goes back to building relationships and forging partnerships."
"Everybody here steps in with a can-do attitude and does their best to get the job done. You can only do that when you've got trusted relationships. When you have that, everyone works well together."
From the entire WAPHA team, thank you Winnie for all your hard work and dedication and we wish you the very best.