The latest data from WA Health Virus Watch (outlined in the table below) provides a salient reminder of the importance of influenza vaccination.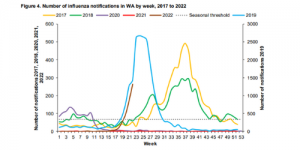 The number of influenza cases reported to the Department of Health WA increased to 264 in the first week of June, well above the seasonal threshold and rising at a similar rate to WA's worst flu season in 2019.
Whilst 2022 influenza vaccination doses are trending at 2021 levels, coverage remains lower than historical levels, particularly among some of our most vulnerable cohorts. Only 54.5 percent of people aged 65+ are vaccinated in 2022, compared to 61 percent in 2021.